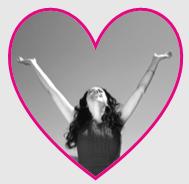 by Victoria Robinson
The Word of God shows us that God inhabits the praises of His people. Since God is pure, then when we choose to praise Him we are focusing on purity.
The psalmist said, "I praise you because I am fearfully and wonderfully made; your works are wonderful, I know that full well."  Wow! If we would align our hearts with this same truth and praise our heavenly Father for how He chose to create us then the purity of praising Him would set us free...